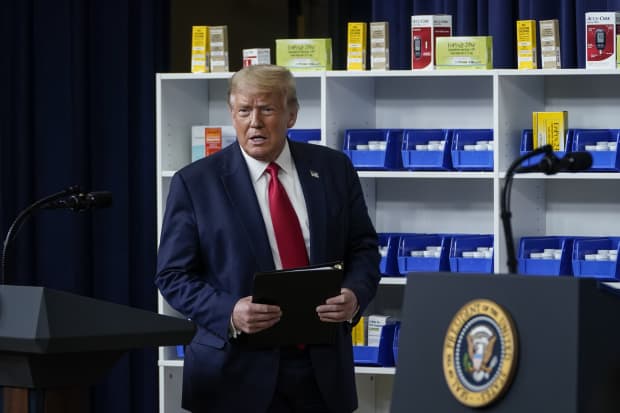 President Donald Trump on Friday announced rules intended to lower U.S. drug prices, as he continues to contest the results of the Nov. 3 election and it's unclear whether the incoming Biden administration will accept the new regulations.
The rules consist of curbing rebates paid to middlemen in Medicare and requiring Medicare to tie prices it pays for drugs to those paid by other developed countries. The Wall Street Journal first reported on the new regulations late Thursday.
As the Journal wrote, the plans have been a signature pledge of Trump's since his 2016 White House campaign.
"The drug companies don't like me too much," said Trump at the White House. "But we had to do it."
The Pharmaceutical Research and Manufacturers of America, a drug industry group, opposes the second rule, known as most-favored nation drug pricing. When Trump issued a related executive order in September, the group, whose members include Merck
MRK,
+0.08%
and Pfizer
PFE,
+1.40%,
called it "an irresponsible and unworkable policy" that would give foreign governments a say in how the U.S. provides access to treatments and cures.
The White House announcement by Trump came as the president continues to refuse to concede the election to President-elect Joe Biden.
"I won, by the way," Trump said about the election as he spoke about the new rules. He did not take questions from reporters.